PU Modern Wall Niche is geweldig voor het toevoegen van dat extra beetje pit aan een hal of hal. Wall Niche Decor wordt gebruikt als een plek om bloemen of statuaria te plaatsen, een geweldige manier om een ​​ruimte te kleden, met een gevoel voor oude Europese elegantie.
Wij vervaardigen PU-kroonlijsten, PU-plafondrozetten, PU-kolommen, PU-hoeken, PU-consoles, PU-pilasters, Polyurethaan-nissen , decoratieve muurvlakken , badkamerruimtes , douchegarnituren , Polyurethaanmuren , muursneden , welkom op uw aanvraag!

Specificaties van PU Muur Niche :
1) Elegante Europese stijl
2) verschillende modellen om uit te kiezen
3) Geschikt voor zowel doe-het-zelf- als bouwprojecten
4) Superieur aan Gips sierlijsten
5) Lichtgewicht, gemakkelijk te vervoeren en te installeren
6) Werk patronen uit
7) Betere flexibiliteit
8) Arbeidsefficiënt
Onze service:
1. Factory directe verkoop met uitstekende kwaliteit, redelijke prijs en eersteklas service.
2. Tijdige levering aan elke uithoek van de wereld.
3. Sterke leveringscapaciteit, high-tech vaardigheden en geavanceerde apparatuur kunnen zeker voldoen aan de eis van de klant.
4. Lancering van nieuwe ontwerpen voor elke categorie elk jaar.
5. Uitstekend vakmanschap. Alle producten 100% geïnspecteerd.
6. Preferentiële vracht door beroemde rederij.
7. Uitstekende service na verkoop.
Catalogus van Polyurethane Wall Niches :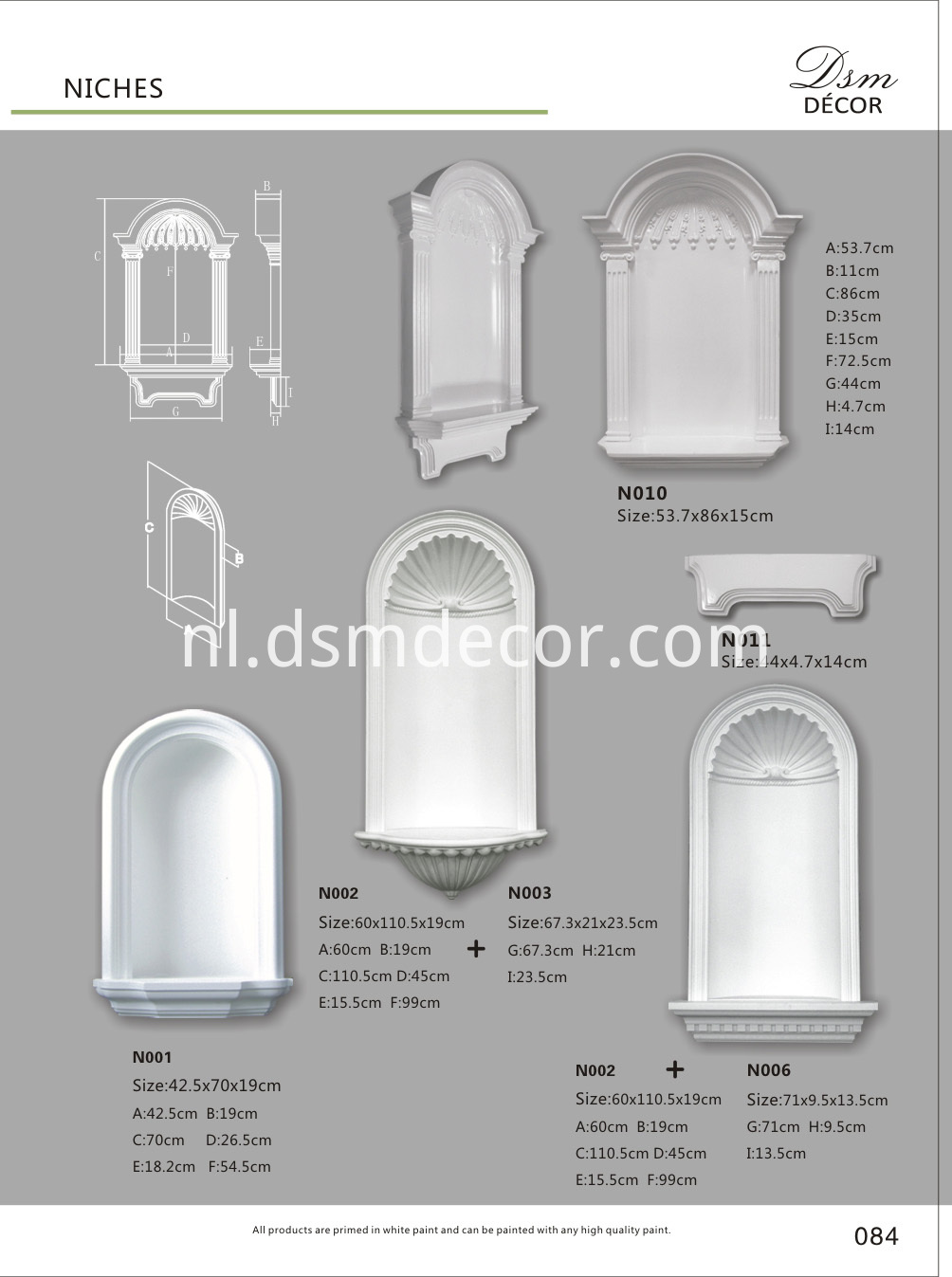 Product Categorie : Polyurethane Wall Niches